Warranty
North Star Science and Technology, LLC warrants our products against defects in material or workmanship, as follows: For a period of one (1) year from date of purchase, North Star Science and Technology, LLC shall at its sole and absolute option, either repair the defective product at no charge or replace the defective product with the same model or its equivalent model at no charge. Proof of purchase in the form of a bill of sale or receipted invoice, which indicates that the product is within the warranty period, must be presented to obtain warranty service. North Star suggests that the purchaser retain the dated bill of sale as evidence of the date of purchase. This warranty does not cover cosmetic damage, and/or damage to any part of the product (including the antenna) resulting from acts of God, accident, misuse, abuse, improper maintenance, a depleted INTERNAL BATTERY power source, or connection to an improper voltage supply
REPAIR OR REPLACEMENT, AS PROVIDED UNDER THIS WARRANTY, IS THE EXCLUSIVE REMEDY OF THE CONSUMER. NORTH STAR SHALL NOT BE LIABLE FOR ANY INCIDENTAL OR CONSEQUENTAL DAMAGES OR BREACH OF ANY EXPRESS OR IMPLIED WARRANTY ON THIS PRODUCT. EXCEPT TO THE EXTENT PROHIBITED BY APPLICABLE LAW. ANY IMPLIED WARRANTY OF MERCHANTABILITY OR FITNESS FOR A PARTICULAR PURPOSE ON THIS PRODUCT IS LIMITED IN DURATION TO THE DURATION OF THIS WARRANTY.
Please note that when electronics devices are placed on wild animals, the animals themselves are often capable of damaging the electronics sufficiently to cause either poor performance or no performance. Thus, we reserve the right to investigate the cause of any failure or instance of poor performance to the extent possible to determine what we can about the fate of the electronics. Damage to our electronics that was caused by animal behavior may or may not be covered by warranty. These situations will need to be determined on a case by case basis.
Airtime Billing Policy
To ensure that there is no confusion about how the airtime invoices are being calculated, here is North Star's policy.
For each calendar quarter, North Star prints out a usage report from the www site that provides the exact number of messages received through the system for each ESN (i.e., elecronic serial number). Based on that number of messages, North Star can determine exactly how much airtime was used per tag and per account holder. The exact number of messages per account holder is then added up for each month in the quarter, and airtime is billed based not on how your tags were programmed but on how much data you actually received through the system. So you ONLY PAY FOR THE DATA THAT YOU RECEIVE. The monthly rates are shown below. If your tag was programmed to collect, for example, 8 locations per day; but in practice it actually only successfully transmitted 6 per day, you are only charged for the 6 locations per day that you actually received. 
Partial months are prorated. Also, in cases where you actually received some number of locations other than what is posted below (e.g., 7 transmissions per day), you will be charged a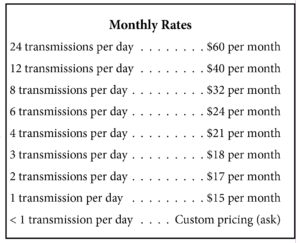 monthly amount between the posted fees for 6 and 8 transmissions per day. 
If a tag is provisioned on the system and it is not transmitting, you are only charged $3 per month per tag to keep it provisioned on the system. If you do not want to pay the $3 per month for a non-transmitting tag, you can ask North Star to decommission it. Once it is decommissioned, there will not be any further charges for that tag, ever. However, if you ever want to use that tag again, you will be charged a $50 activation fee to re-provision it on the system. 
Tags that remain provisioned on the system and do not transmit for 12 sequential months will be decommissioned summarily. This is because we have over 1,000 tags provisioned on the system, and we get charged to keep them there. If the tags are not being used, we need to limit our liability for the costs that they generate to us. And it is not our responsibility to track down each researcher to determine why the tags are not being used. After 12 months of inactivity, they will be decommissioned. If, at a later time, the client decides to use the decommissioned tags, a $50 re-activation fee will be charged.
The account holder is responsible for all testing time, both at our shop and while the tag is in your possession. However, we do try to limit the amount of testing time that is actually charged to the account holder. 
If a client would like, you can ask North Star to provide its notes and calculations that were used to determine your invoice amount. 
Special Notes for Returning Wildlife Tracking Collars
If you send a collar(s) back to the lab to have the data dumped, we need to know the following from you:
What will happen to the collar once the data is dumped? For safety reasons, we will need to remove and dispose of the battery. This will cost our client $7 per collar. After that, we need to know if we are to store the collar(s) with us after removal of battery, return to client with no battery, or return to client with new battery in operational condition). NOTE: If you intend to replace the batteries at some point but are not yet ready to get the collars back, we will hold them until you are ready for field work to resume; this way, fresh batteries are not wasted sitting in a collar for months without being used.
If we keep the collar and store it, a $2 per month fee will be assessed per collar stored.